Your laptop can kill you!
Source: aol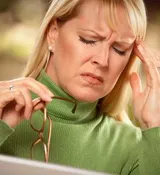 It helps you to stay in touch. Your best buddy, your partner at work and play! Most people would say that they cannot live without their 'lappie', an affectionate term for their laptop. Your laptop is your friend, philosopher and guide! Wait! Is it really?

If you love your laptop, then this may be a shocking revelation for you! Your laptop can really damage your health! No, not just stress, but extended use can cause some real time problems. Can you guess what those problems might be? Posture issues, infertility and laptop-itis (all the diseases caused by the laptop).

The Text Neck Institute in Florida has recently published some new findings about the dangers of using a laptop for extended periods of time. According to this report, eight to eighteen year old children spend an average of seven hours hunched over a laptop. As a result, doctors are now noticing an unprecedented rise in degenerative neck diseases.

Earlier, these problems only because prominent after 20 years of age. Now, even teenagers are getting afflicted. The facts are simple. The more you bend your head, the more the weight of your head increases. Since the body follows the head, your posture suffers. This causes a variety of problems like carpal tunnel syndrome, headaches, pain and aches in shoulder, neck and back. With time, this can translate into diseases like arthritis!

Guess what! It can even lead to impotency in men, particularly if you are like to keep the laptop in your lap. The excessive heat emitted by the laptop can directly damage your testicles. Result? Reduction in the sperm activity, fertility and chances of DNA damage! For pregnant women, excessive laptop can harm your unborn baby!

So, what's the solution to this issue? It's simple! Use a laptop if you must. Just make sure your laptop remains at the eye level and you use a docking station. Remember to take a break every now and then.
Source: AOL